Flexibility in Earning Your Master's in Professional Studies from Georgetown University
Propel your career forward with a Georgetown degree.
Start Here
Complete the form below to speak with one of our admissions advisors.
Note: Bachelor's degree required. All fields required.
Flexible Learning Formats
Join a School at the Forefront of Higher Education
A Master of Professional Studies degree from Georgetown University can be earned online or on campus to launch a thriving career. Choose from three distinct degrees targeted for growing industries. You'll enjoy a unique educational experience that prepares you to lead and make a difference in the world.
Offered by Georgetown University's School of Continuing Studies (SCS), these degrees include:
Master of Professional Studies in Sports Industry Management
Master of Professional Studies in Real Estate
Master of Professional Studies in Information Technology (IT) Management
By placing students together with experts in their fields in a flexible learning environment, Georgetown's online programs will challenge and inspire you while also providing a convenient way for you to manage your busy schedules.
Georgetown University is one of the world's leading academic and research institutions. We are a vibrant community of exceptional students, faculty, alumni, and professionals dedicated to real-world applications of our faith and service. We look forward to you joining us.
Georgetown University ranks #2 among the Best Catholic Colleges in America.1
Georgetown University ranks #7 among the Best Colleges for Business in America.1
68% of recruiters from the technology industry agree that leaders in their organization tend to have a graduate business education.2
Three Programs to Boost Your Professional Acumen
The Continuing Studies School at Georgetown University currently offers three Master's of Professional Studies programs, each created to provide students with advanced professional skills and focused industry expertise.
This program is for students who are interested in pursuing an exciting and challenging career at a sports agency, as a sports facility manager, or in collegiate or professional athletics.
Attain the skills and knowledge required to achieve success in the highly competitive field of sports management. Learn the concepts, theories, and methods that will best serve them as they enter the global sports industry.
This program is for students preparing to become forward-thinking change agents and real estate leaders poised to shape the real estate industry.
Prepare for your future with the tools to fulfill many different roles within the global real estate industry. Gain a comprehensive understanding of real estate while developing the skills necessary to successfully manage the evolving challenges, trends, and complexities of this dynamic global industry.
This program is geared toward information technology professionals, project and program leaders, and executives involved in the business side of IT.
Immerse yourself in a learning environment that challenges you to think big, prepares you with critical acumen, and sets you on the path to become a leader in IT. You will develop the business knowledge and hands-on skills needed to succeed in diverse information technology leadership positions.
Georgetown University's School of Continuing Studies (SCS) offers a wide range of degree programs and applied learning experiences to an inclusive community of students and professionals. These programs combine theory with practice through rigorous curricula built on a foundation of ethical values.
Request Information
Learn On Your Own Terms
Georgetown's School of Continuing Studies is committed to empowering highly motivated students to pursue their passions and accelerate their careers while maintaining the balance they need in their professional and personal lives. Offering professional master's programs in an online or on-campus format allows you to learn from experts in highly regarded, applied programs in the way that's most suited to your schedule.
Prepare for Success with a Career-Focused Curriculum
Courses are taught by experts in their fields, providing opportunities for students to excel both academically and professionally. Our online courses provide the same academic content as the on-campus courses, award the same number of credits, meet the same learning objectives, and feature many of the same faculty members.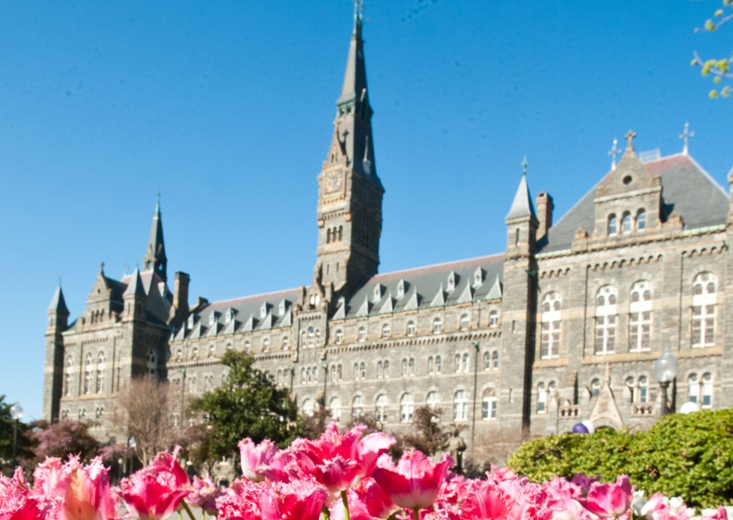 Launch Your Career to New Heights
Whether you earned your master's in professional studies from Georgetown University online or on campus, you graduate with an interdisciplinary set of skills to help you succeed in your career. An MPS degree focuses more on advanced practical skills than the theory and research generally explored in Master of Arts or Master of Science programs. Three MPS degrees – Sports Industry Management, Information Technology Management, and Real Estate – prepare you with leadership skills specific to each of those sectors, making you uniquely qualified to pursue a rewarding professional career.
Sources
"Georgetown University Rankings," Niche. Retrieved December 28, 2021, from https://www.niche.com/.
"Demand of Graduate Management Talent: 2021 Hiring Projections and Salary Trends," Corporate Recruiters Survey, Graduate Management Admissions Council. Retrieved December 28, 2021, from https://www.gmac.com/.